Sushi Salad with Italian & Mediterranean Flavour
INGREDIENTS
Sushi rice
3C raw sushi rice
1/2C Spiral Organic Sushi Vinegar
2Tbsp Spiral Organic Extra Virgin Olive Oil
1/2C minced black or kalamata olives
1/2C minced soft dried tomato
3Tbsp Spiral Organic Furikake (Tamari ) or toasted sesame seeds
Toppings
1C leafy greens such as watercress, rocket or mixed leaf
100g Prosciutto
100g Smoked salmon
10 pieces soft dried tomato (or 5 fresh baby tomatoes, cut in half)
10 black or Kalamata olive
1/2 zucchini, cut into match size marinated with 1Tbsp dressing
1/4 red onion, sliced very thinly
Garnish
1/4C dill,
1/4C chive, cut in 2-3cm
Dressing
2Tbsp Spiral Organic Balsamic Vinegar
2Tbsp Spiral Organic or Genuine Tamari
2Tbsp Spiral Toasted Sesame Oil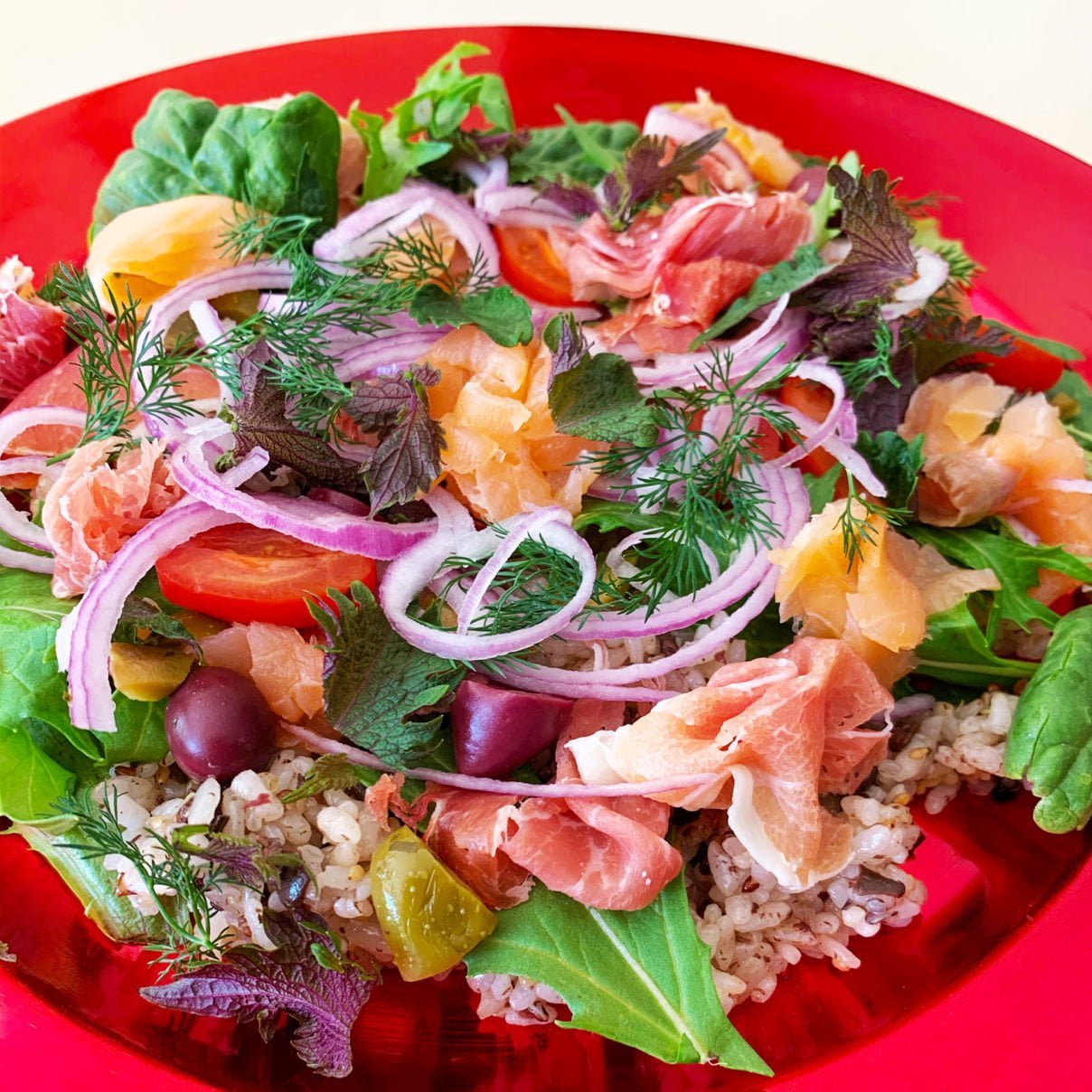 METHOD
Wash rice and rinse well repeatedly until the water becomes clear, drain and cook with 3.5 C water using a rice cooker.
Meanwhile, mix sushi vinegar and olive oil. When the rice is cooked, sprinkle vinegar mixture and mix softly and evenly, cooling it down to body temperature.
Mix it with furikake, minced olive and dried tomato. When the rice mixture has cooled, transfer to a large plate. On top of rice mixture, place lettuce or green leaves, prosciutto, smoked salmon, and scatter dried tomato (or baby tomato), olives, red onion and marinated zucchini. Garnish with dill and chive. Drizzle dressing over the sushi salad as you like when eating.