Coconut Vegetable Curry
INGREDIENTS
2Tbsp Spiral Organic Virgin Coconut Oil
4 cloves of garlic, crushed, finely minced
4 onions, minced
2Tbsp flour
4Tbsp mild curry powder
Sauce;
1C Spiral Organic SUGO Primavera or Arrabbiata (for a spicy option)
1 medium carrot, finely grated / puree
1 large stalk of celery, finely grated / puree
1 small apple, finely grated / puree
1 small ginger finely grated / puree (1Tbsp)
1 small banana, finely chopped / puree
1L vegetable broth
2 cubes of vegetable stock
2Tbsp Spiral Organic Tomato Ketchup
1 bay leaf
1/2 can (200ml) Spiral Organic Coconut Milk
Salt and pepper to taste
1 small bundle bouquet garni (Optional)
Vegetables;
3Tbsp Spiral Organic Virgin Coconut Oil
1 eggplant, cut 1/4 lengthwise and sliced
1 onion, cut in half and sliced
1 red capsicum, chopped
1 yellow capsicum, chopped
1 zucchini, cut 1/4 lengthwise and sliced
** Mushrooms/cauliflower/sweet potato/potato/lady finger can be added **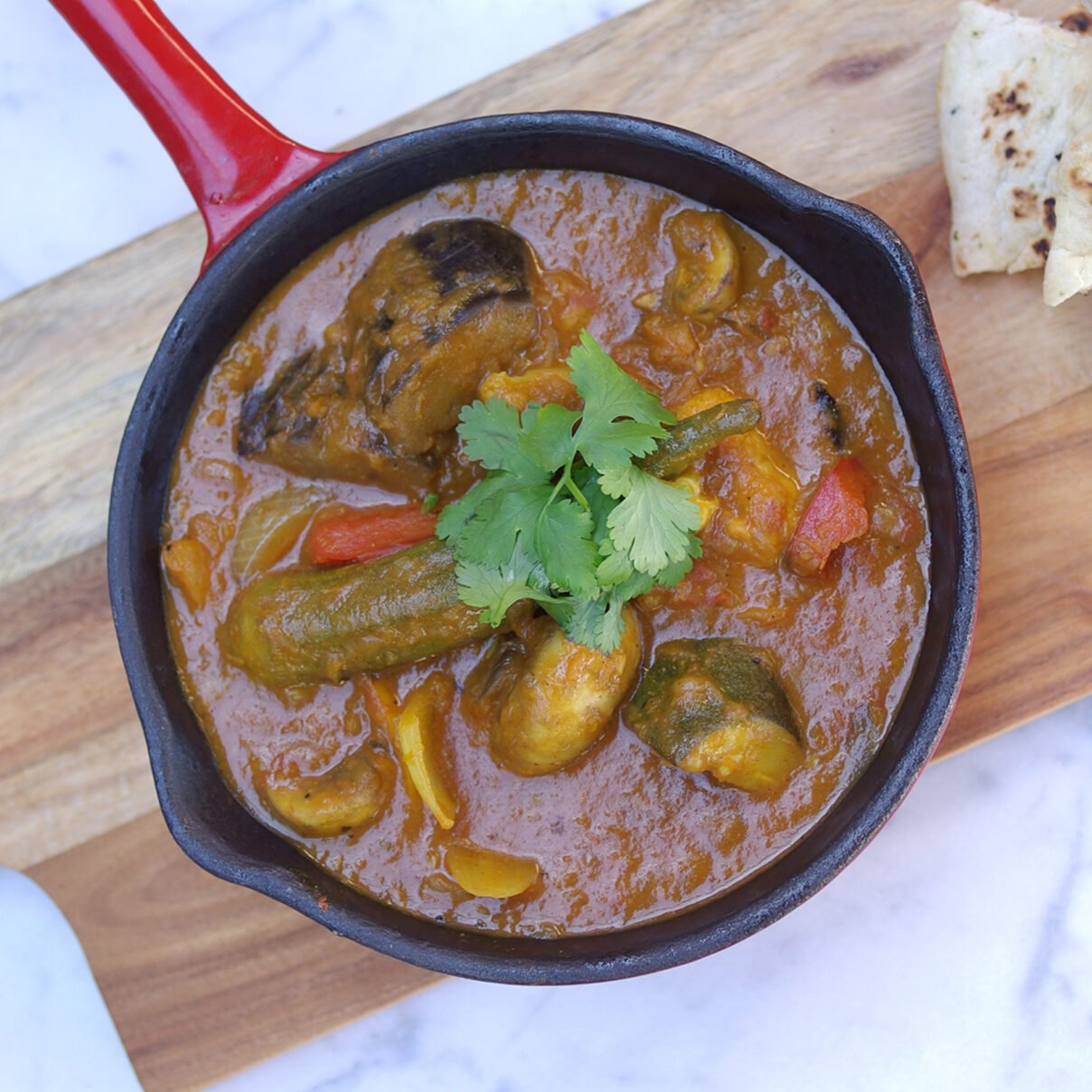 METHOD
Sauce
1. In a frying pan, heat the coconut oil, add garlic and onion and stir fry well. Keep stirring until the onion caramelises. Once the onion turns a dark brown colour, turn the heat low and stir fry for about half an hour)
2. Add flour and curry powder and stir fry well to elicit curry aroma. Set aside.
3. In a stew pot, add stir fried onion and all the ingredients (except coconut milk).
4. Heat the ingredients, stirring and when it comes to the boil, reduce the heat to low and simmer with lid for about 2 hours until the curry thickens. Stir occasionally to keep ingredients from sticking to the bottom of the pot.
5. Add coconut milk and salt and pepper to taste. Leave it overnight so that the all ingredients combine well.
Vegetables
1. In a frying pan, heat the coconut oil, stir fry the eggplant.
2. When the eggplant absorbs the oil and becomes tender, add onion, capsicum and zucchini and stir fry well with high heat until the vegetables become tender.
3. Heat the curry sauce and add the vegetables, combine and simmer for further 20 minutes
4. Serve with Naan bread or rice.