Miso Grilled Onigiri with Shiitake Mushroom Filling
INGREDIENTS
For rice
2 cups Short grain rice (sushi rice)
2 cups Water for rice cooker or 2 ½ cups of water for stove top
Mushrooms fillings
150g Fresh shiitake mushrooms (finely chopped)
2 Tbsp Spiral Organic Natural Sesame Oil
1 Tbsp Fresh ginger (grated)
3 tsp Spiral Organic Tamari
2 tsp Agave nectar
Miso mixture
4 Tbsp Spiral Organic Shiro Miso
4 tsp Spiral Mirin
4 tsp Cooking sake
1 Tbsp Vegan butter (melted)
For grilling
2 Tbsp Vegetable oil
Garnish (optional)
1 tsp Sesame seeds (black and white)
½ cup Seaweed (pre-shredded)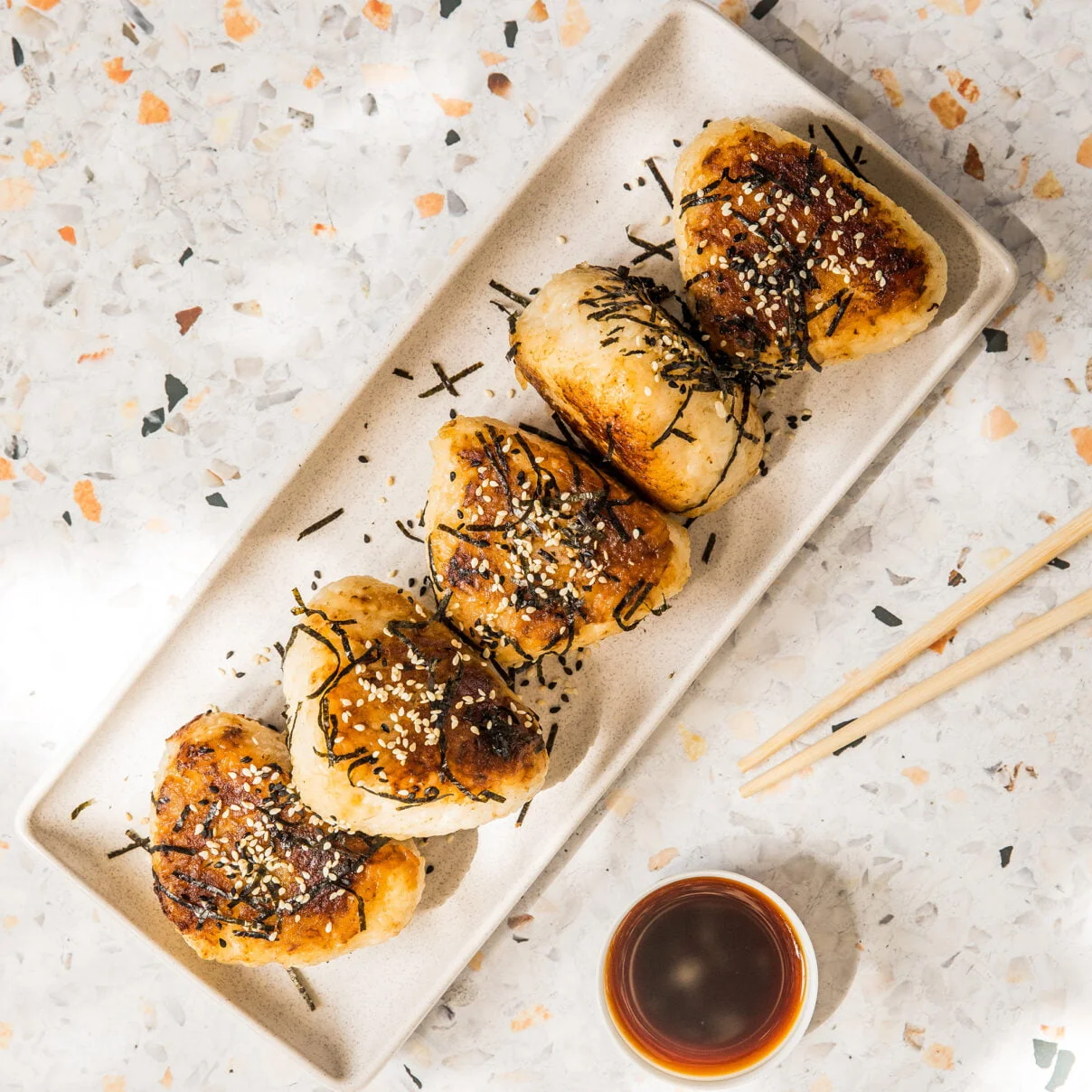 METHOD
1. Cook your rice until fluffy and set to the side. While rice is cooking you can make your mushroom filing.
2. Heat sesame oil in a pan over medium heat. Add fresh ginger and sauté for 1 min.
3. Then add shiitake mushroom and Organic Tamari and cook for 4 min or until mushrooms soften.
4. Lastly add agave and mix well.
5. Transfer filling to a bowl and set aside to cool.
Miso mixture
1. In a bowl, place all the ingredients together, mix well and set aside
Assemble onigiri
1. Put 2 Tbsp of the miso mixture into the cooked rice and mix well then divide the rice into 6 portions and shape as a ball
2. Take a sheet of cling wrap and place in palm of hand to shape onigiri. Take 1 rice ball, place in centre of cling film and palm of hand. Make a deep indentation to the middle to add approx. 1 -1 ½ Tbsp of filling. Cover the filling with rice and begin shaping the rice ball into desired shape, keeping the filling in the middle
3. Brush remaining miso mixture on the flat sides of the onigiri you are going to grill
4. Heat a cast iron skillet over medium heat and coat the skillet with vegetable oil then grill the onigiri for about 1 minute on each side until crispy. Transfer to serving plate and garnish with sesame seeds and seaweed, serve hot.
Find more Conscious Cooking recipes by Heaven Leigh on her website!