Rustic Handmade Noodles with Spring Peas, Oyster Mushrooms, and a Miso Butter Sauce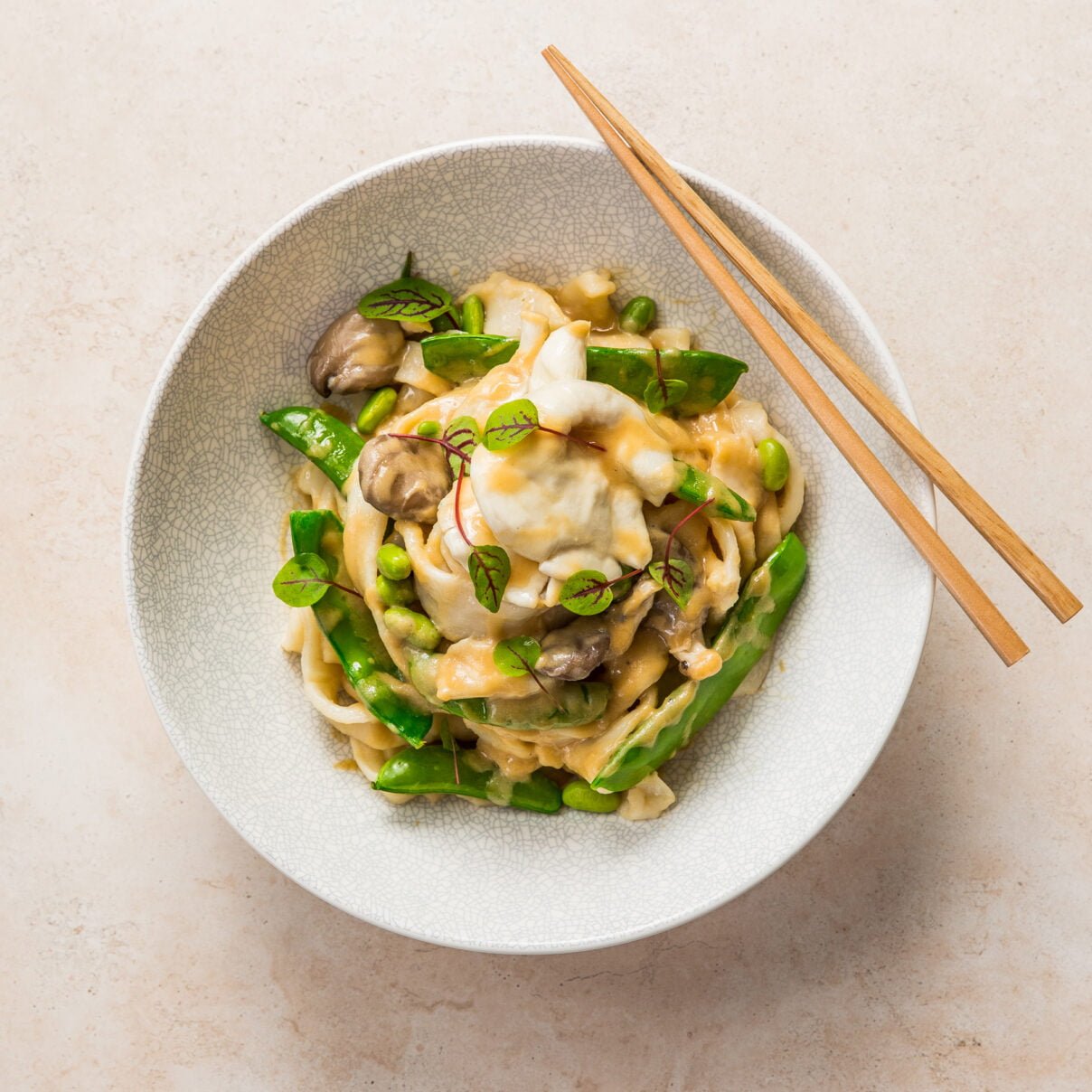 METHOD
Inspired by two of my favourite childhood dishes, the traditional Hokkien Me hoon Kweh which is a hand-torn pasta cooked in a vegetable broth and miso butter noodles, a regular after-school special. This dish is a family favourite sure to have everyone slurping up every noodle and drop of sauce.
1. In a bowl, mix your flour and salt then add water gradually and mix with a spatula until everything is combined
2. Transfer mixture to work surface and knead into a dough approx. 5 mins
3. Leave dough in a bowl covered with a damp cloth to rest for 15 mins
4. Knead again for about 2 min until dough is smooth
5. Divide dough into two then flatten each piece with a rolling pin into a rectangle shape about ½ cm thick
6. Coat with oil then place on a tray and cover with cling wrap to rest for 2 hrs
7. Bring an extra-large pot of water to boil. Place slabs of dough on a chopping board and cut them into noodle strips, about 1cm wide
8. Pick up individual strips of dough, holding each end bounce the noodle against the bench top to help it stretch then drop straight into boiling water. Repeat the procedure for the all the strips, you may want to do this in batches. Once noodles float, they are cooked, and you can scoop them out and set aside to drain in a colander
9. Make sure you save 1 ¼ cups of noodle water for sauce and discard the rest
10. In a pan over medium heat add sesame oil, edamame, peas, and mushrooms, cook for 2mins then transfer to a bowl and set aside
11. In the same pan add butter, miso, mirin, Organic Tamari and the noodle water, whisk and cook over medium heat for 1 – 2 minutes
12. Add drained noodles to pan with sauce and cook for another 1-2mins or until sauce thickens.
13. Into the same pan, add in cooked vegetables, lemon, salt and pepper to taste.
14. Garnish with the red sorrel, then serve
Find more Conscious Cooking recipes by Heaven Leigh on her website!