Sweet Potato Cakes with Umeboshi Vinegar Salt
INGREDIENTS
3 large sweet potatoes (about 200g each)
800ml thickened cream
Any high-smoke point vegetable oil, to deep fry
Batter
200g plain flour
200g cornflour
3 tbsp baking powder
450ml chilled soda water
Umeboshi Vinegar Salt
3 tbsp coarse Pink Himalayan Sea Salt
2 tbsp Spiral Plum Vinegar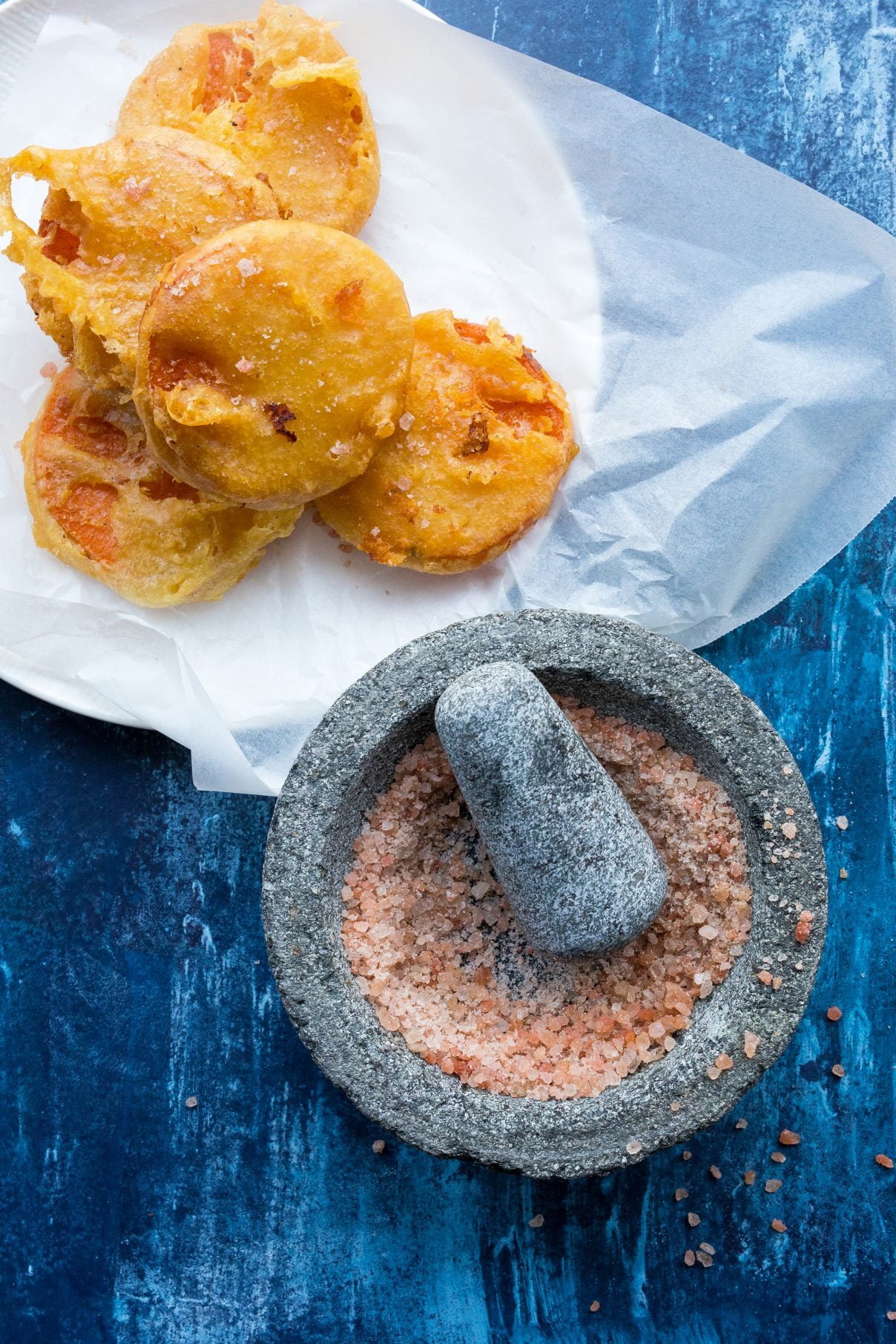 METHOD
To make umeboshi vinegar salt, preheat oven to 100ºC (80ºC fan).  Combine salt and vinegar in a small bowl and allow to sit for 30 mins to absorb.  Spread salt out over a baking tray and bake for 40 mins or until completely dried.  Pound in a mortar and pestle until fine.
To make potato cakes preheat the oven to 230ºC (210ºC fan).
Line the base and sides of a deep baking tray with foil and baking paper.  Give the potatoes a quick wash, leave the skin on, top and tail them, then slice into 1 cm-thick slices.
Place the cream in a medium size saucepan and bring to the boil, stirring occasionally.  Remove from heat and season generously with salt and pepper.
Pour cream into the prepared baking tray, arrange the potatoes on top of the cream then cover with foil (poke a few holes in it with a fork) and bake for 30 minute until a skewer inserted into the potato goes in easily (there should still be a little resistance).  Take out of the oven and set aside to cool completely.
Meanwhile, to make the batter, combine the dry ingredients together in a bowl and make a well in the centre.  Slowly whisk in enough of the soda water to form a thick smooth batter.
Once the potatoes have cooled, carefully remove slices from the cream and layer onto a tray.
Heat the oil in a deep-fryer to a high heat.  Carefully dip each potato slice in the batter and deep-fry in batches (2 at a time) for 2-3 minutes or until golden.  Drain on paper towel, sprinkle with vinegar salt and serve immediately.