Marinated Sardines
INGREDIENTS
Marinated Sardines (see below)
Dashi poached eggs
Spiral Miso Paste
Sourdough, toasted
Edamame Salsa
Ponzu Chilli Oil Dressing
Butter
Shichimi
Marinated Sardines
Fresh sardines (scaled and gutted), 20-30 in number (4-5 per person)
Spiral Organic Shoyu, 200ml
Sake, 40ml
Spiral Mirin, 30ml
Dashi poached eggs
Spiral Instant Dashi, 1.5 litres
Spiral Organic White Wine Vinegar, 30 ml –
12 Free range Eggs
Edamame Salsa
Podded blanched Edamame, 300 grams
Ginger, 15 grams
Red chilli, one roughly chopped
Spring onion, ó bunch
Spiral Organic Extra Virgin Olive Oil, 50 ml
Picked mint leaf, small handful
Flat leaf parsley, one small handful
Shiso cress
A pinch of salt
Ponzu Dressing
Spiral Ponzu, 75 ml
Chilli Oil, 25 ml
Pinch of sugar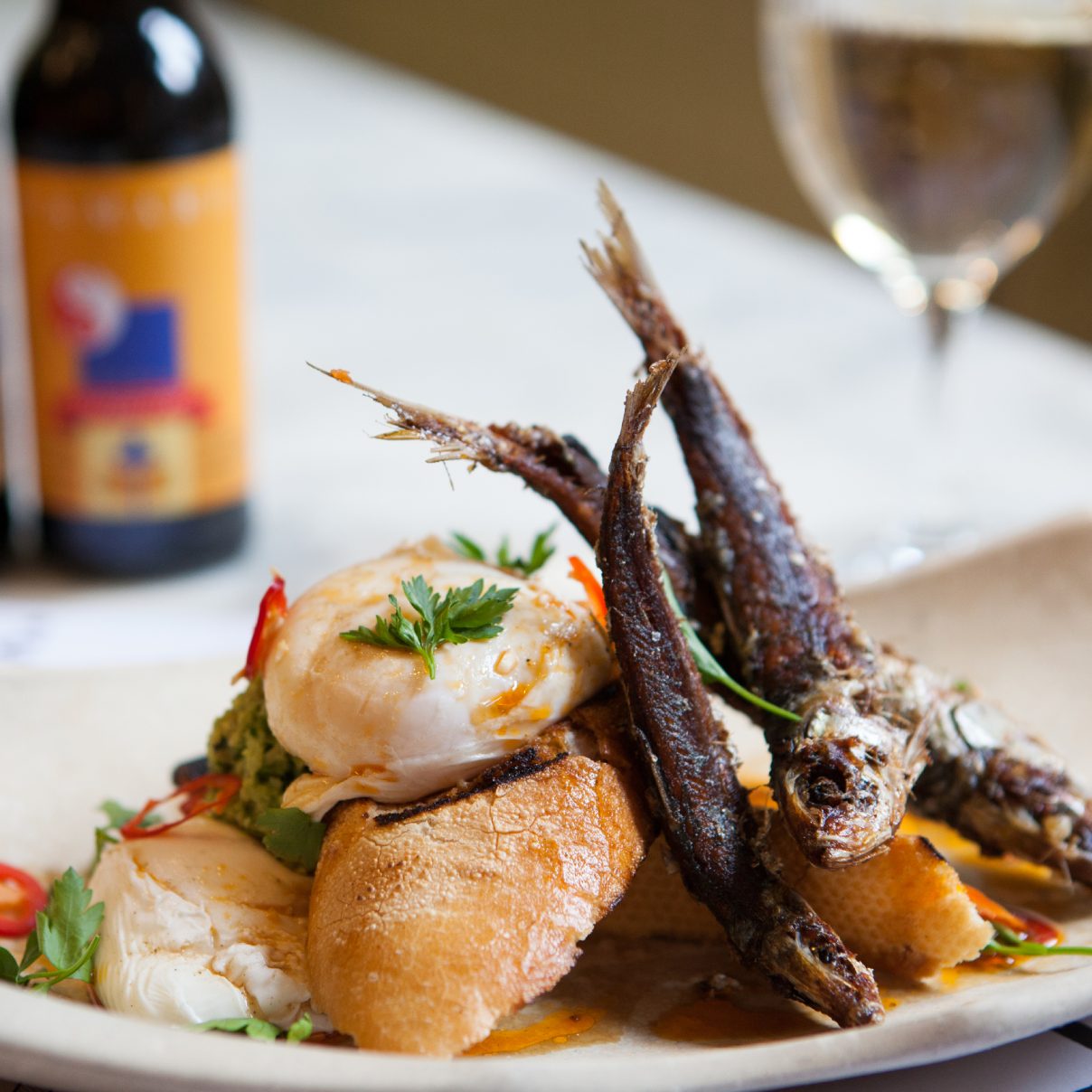 METHOD
Marinated Sardines
After cleaning the sardines, place in the liquids and allow to marinate for 45 minutes. Remove and place on a cake rack, allow to air dry uncovered in the fridge overnight
Dashi Poached eggs
For the dashi-poached eggs, bring the Dashi up to a gentle simmer and then poach the eggs.
Edamame Salsa
Pulse blitz the edamame and ginger with the mint and parsley in a blender. Add the olive oil and pulse again. The salsa should be rustic so make sure you do not blitz too finely. Remove and add the chopped chilli, fold to combine and season lightly.
The dish already has several slaty elements so you do not want to season the salsa too heavily.
Ponzu Dressing
Mix well to combine.
TO SERVE
In a heavy based pan over medium to high heat, cook the sardines to golden and crisp. Toast your sourdough. Whilst this is cooking, poach your eggs.
When the toast is ready lightly spread with the butter and the miso paste.
Remove the eggs once they are cooked and drain on a cloth to absorb the excess water.
Place the toast on the plate. Add a spoonful of salsa to one side. Place the sardines next to this, creating a bed for the eggs.
Place the eggs on top and then drizzle with the Ponzu dressing. Garnish with some shichimi and shiso cress. Enjoy.