Vegan Poke Bowl
INGREDIENTS
2C brown rice, uncooked
Toppings
2C frozen edamame in pod (1C without pod)
1 can Spiral Organic Chick Peas, drained
1Tbsp Spiral Tamari (Genuine/Organic)
2Tbsp Spiral Mirin
1Tbsp Spiral Japanese Sesame Oil
1 Lebanese cucumber, thinly sliced
4-5 radish, thinly sliced
1 carrot, shredded or julienned
1 avocado, halved, stone removed, peeled, and thinly sliced
½ red onion, thinly sliced
Miso Sauce
1Tbsp Spiral Organic Shiro Miso
1Tbsp Spiral Organic Smooth Cashew Butter
1Tbsp fresh ginger, minced
1Tbsp Spiral Organic Sushi Vinegar
1Tbsp vegan mayonnaise (optional)
Garnish
2Tbsp Spiral Crispy Nori Krinkles
4 tsp toasted sesame seeds
½C coriander leaf, roughly chopped (optional)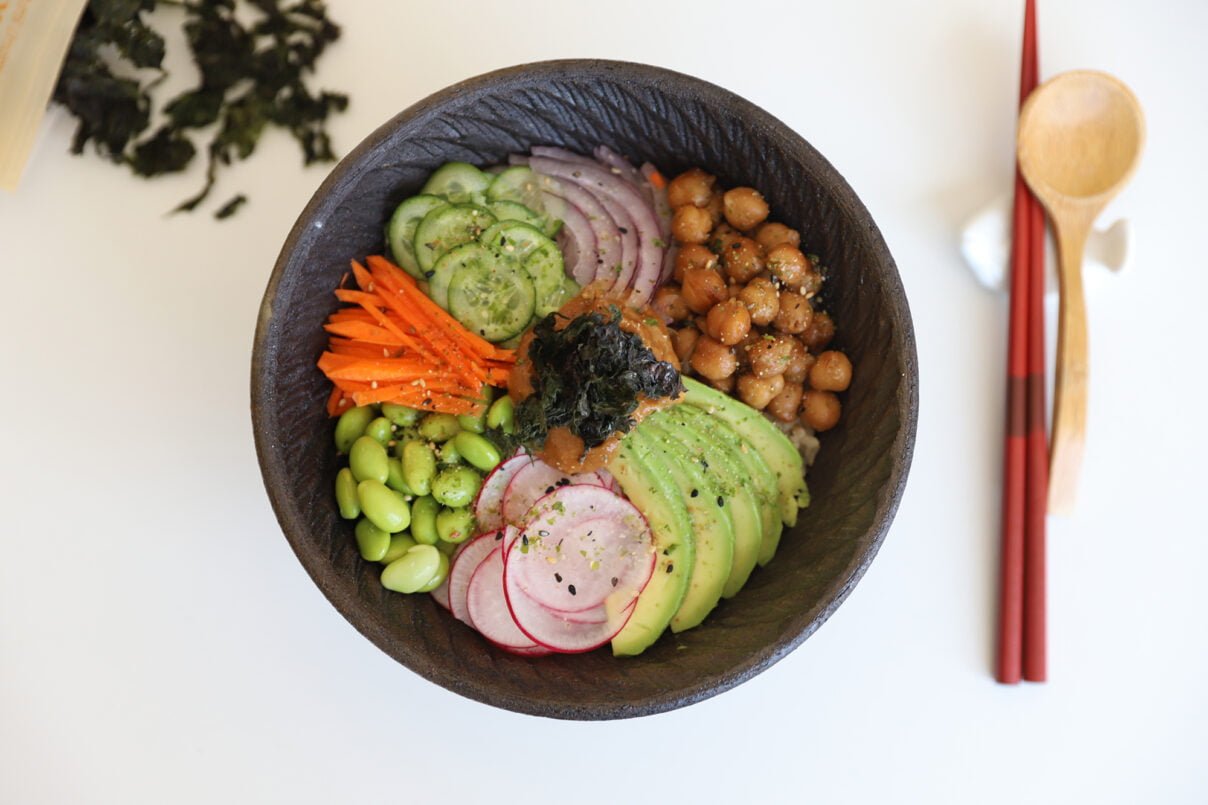 METHOD
1. Cook brown rice according to package instructions. Keep warm.
2. Meanwhile, cook frozen edamame for 2-3 minutes in a pot of boiling water, drain and press the beans out of the pod, and set aside (sprinkle salt if needed). In a saucepan or small frying pan, heat, and sesame oil, add drained chick peas, stir until the sauce has thickened.
3. Combine the miso sauce ingredients in a small bow.
4. Divide the rice between 4 bowls. Arrange the toppings on the rice, with the miso sauce mixture in the centre. Garnish with nori krinkles on the miso sauce, sesame seeds, place a coriander leaf in the centre (optional) and serve. Don't forget to mix well before eating!