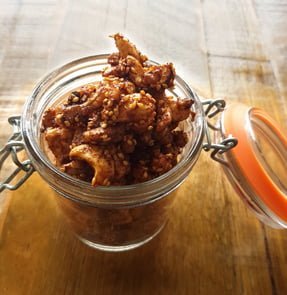 METHOD
1. In a small bowl, add miso, maple syrup and Korean chili powder and mix well. Set aside.
2. In a small pan, add walnuts, cashews and sesame seeds.
3. Heat over medium low heat and add miso mix and keep stirring.
4. Cook for 2-3 minutes until nuts are brown and start sticking together.
5. Remove from the heat and cool.
6. Toss them in a bowl and serve with beer.